I'm Just A Moon
February 9, 2010
Sitting here idly, I wait for my time.

But don't be deceived, it is not I who shine.

I make myself ready for the role in which I take part,

So you will notice the Light even when it is dark.

You think I shine brightly – just for you,

But that is not what I'm doing, watch and see what I do.

I'm merely a reflection of Something bigger than me.

Look to the Source, that is the key.

Don't give me credit, hold the applause.

If you miss out on the purpose, I'm simply a lost cause.

Turn your eyes to the Sun, Who gives such great light,

And uses me for It's glory to reveal the Way in the night.

Someday my job will be over, and the Sun be revealed soon

But please, don't look at me, I'm just a moon.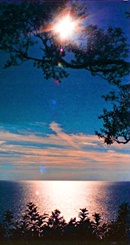 © Crystal B., Gresham, WI