Cracks in the Ceiling
February 8, 2010
Sometimes at night, I'll begin to count the scattered cracks that weave a path across my bedroom ceiling.
Not to pass time, but because I know you would do the same if sleep refused to come.
It's so strange.
Now that you're gone, I must play the role of both lovers;
I must create a false warmth to press against the side of my body as if you are there beside me...
The missing part of my soul taken away with you lingers outside my window,
Breathing its frosty breath against the glass
And writing taunting words by cutting its way through the cold mist.
Once, I drew a heart against that same mist, thinking I could heal myself in a sense.
But the sun had its own score to settle with me, and so it melted my falsified hope away with the dawn.

I try to focus on the good that was once in us;
The feeling of your cheek against mine as you whispered softly in my ear, your arms enclosed around my body in a protective, yet yielding way.
How you managed to smell like both summer and winter, and how you always wore the same golden cross around your neck, your hand idly wandering up to it when you were anxious.
The way you walked a little too fast
The way you narrowed your eyes whenever you were thinking
And the way you somehow knew whenever I entered a room; your lips pulling apart and revealing the smile I knew even better than my own.

You became my best friend as the years went on; a constant in my life I never feared of losing.
Even now, I feel your fire burning within me, urging me on in this life that is hardly livable without you.
Maybe sometime in the future we will meet again-
I will wish this with all of my being; I will write it in the mist until not even the sun has the energy to melt it away
And I will dream of it until every last flaw in my ceiling has been accounted for.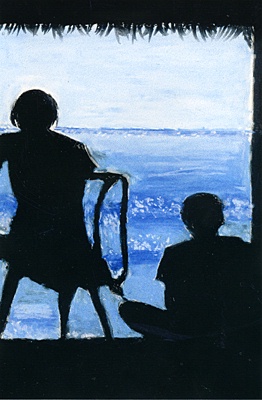 © Julia S., Haddon Heights , NJ