i never needed the rainbow
February 14, 2010
The water is rushing in and people are running and screaming
Everything is slowly being swallowed by the mass of blue
I hear them banging on the door of the ark
I don't budge
I sit there listening to the screams of people as there shrouded in darkness
Gurgle, Gurgle
Muffled cries
Then silence

Will you be my flood?

Will you cover my barren heart and make it fruitful?
Will you drown away my fears?
Will you wash the pain away?
Will you leave everything craving for you when there is a drought?
Will you let me sail away with you?
Will you protect me?

Everything is dark
I sit and look around
At the few living things that made it into the ark
I open the trunks and smile as only the creatures of light crawl out
And then I start to climb up the stares to the deck
I can still hear the howling winds feel the vibrations of thunder smell the rain and taste the electricity in the air

Will you be my flood?

Will you wash my heart?
Will you cover me in you?

Dripping soaking
Cold

Will you be my flood?

I love you.

Will you be my flood?
Will you stay with me?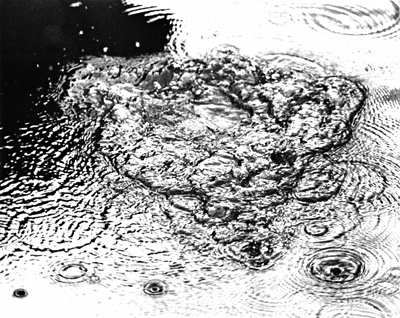 © Christina L., Great Falls, VA