Hold Our Breath
February 4, 2010
Your standin deep at the beach,
The ocean is a nice dark blue.
This is the ocean of your last.
But it is new, this ocean is filled.
With thaughts and emotions.
You put your foot in and feel the cold.
but the cold is old thaughts.
You arent afraid, you jump head first.
You see yourself in a forest.
And in the clear there is a tree.
This tree is most desired.
For it has blue leaves.
You want to take a leaf but.
you are the size of an ant.
how could you get there fast enough.
even then its to big your too small.
Before we go home and leave.
Before i must say goodbye.
As an ant in that dream.
I learnd to fly.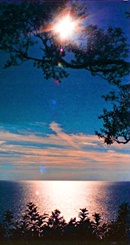 © Crystal B., Gresham, WI