It's over
January 28, 2010
You had my heart,
I thought we'd never split apart
You told me about your dream
It wasn't as it may seem
Maybe it made things worse
And left us with this evil curse,
Was time for us to disperse?
Whether or not I was ready,
It didn't happen steady.
It could of happened for the best,
Even if it made me depressed.
What we had was legit
But I must admit I'm over it.
Though, I will never forget…

You,
Or what we've been through.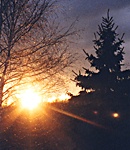 © Christy S., Germantown, NY