Colored
January 27, 2010
I saw your face, and nothing else,
Save everything about you that I loved.
I saw your heart, and felt the rhythm of its beat,
Pulsating against mine like a magnetic bond.
They asked me about you, and I told them.
I told them about your habits and tendencies,
The way you smile.
The things I did because I knew they'd make you laugh.
Because when you laughed it gave me hope,
And I knew there was nothing to worry about
When we were together.
On our field trip to the museum, you told you best friend you liked me,
And I told my friend I liked you,
Even though each of us already knew.
I gave you the color crayon you were missing from your box,
And you shared your mother's homemade cookies with me every day
Because you knew how much I loved them.
We talked and laughed every chance we got,
Because of all the girls in our class, you knew me best.
You saw me, and I saw you, for what you were.
I loved your eyes, your lips, your nose, your hair,
It was all beautiful, inimitable, perfect.
You reminded me of light, of an aurora of bright colors.
And that is why I was confused when they said you weren't colored.
They asked me a question that I couldn't answer
I didn't quite understand.
Because to me, you were colorful, in every way.
You were nothing that could be described in a derisive tone,
The one they used when they told me you were "white".
Because white is blank, and that wasn't what I saw in you.
Everything seemed perfect before they told me it wasn't.
So I began to search for a flaw.
I looked harder at your face, and then I looked at mine.
To finally notice something I hadn't seen before.
It confused me, and I asked you about it, but you were confused too.
And after that day in June when you asked your mother, everything started to change.
And now that we've grown, the pair of us, I want to ask again.
I know you understand our differences now, because I do too.
And the voice is yours now.
We sit in class together, but I can't feel your heartbeat anymore.
You're silent, and I'm searching for responsiveness to something I cannot seem to ask.
I can no longer provide you the color that was missing from your box.
Because they told us we couldn't be, and we listened to them.
Things can never be the same again.
But I wonder if you remember.
I still think about you.
I still see your face, and you, and nothing else.
Because although they told me you aren't,
You will always be "colored" to me.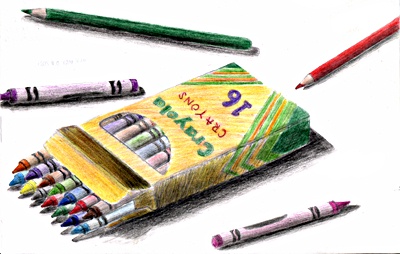 © Dana H., Wichita Falls, TX