An Earthly Zion
January 26, 2010
They sat,
They waited,
Still as the divine black glass,
Arctic to touch, convivial to hold,
That lay idle beneath them.

We watched,
We gazed,
Amidst the towering cordillera,
Their elated crests like succulent blossoms
Unfurling into whispering dawn.

I observed,
I imagined,
As syrupy sublimity of fog and haze,
A soothingly soporific means,
Quelled our human vice.

We lulled,
We soothed,
Our hearts that floated,
Like ivory water lilies
And timber of our placid canoes.

They listened,
They embraced
The lingering loons' song
Of vulnerable comfort
That drifted through the earthly Zion.

And then it arose,
Its transcending beams
Cradled the weary soul,
Exposed the masked mind,
Enkindled the world with life

On Lake Mooselookmaguntic.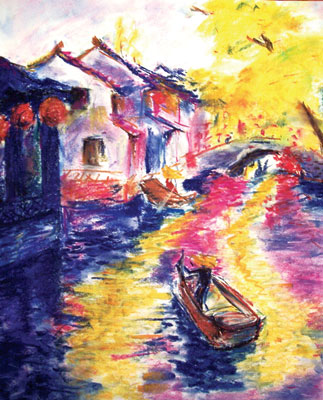 © Xiao H., Naperville, IL