The Color Yellow
January 25, 2010
On a dark, dreary day, a enormous cloud sails across the sky.
Bang! Zing! A bright and majestic beam of lightning flashs across the sky. Within a split second it disappears marevlously.
On a bright, sun-soaked day, the remnants of a storm have just passed. To your surprise you look to the sky to see a prosperous rainbow leaping up from the ground. On a musky, breezy day, you walk outside to be swept off your feet. You gaze up at the sky after maintaing awareness, when suddenly a streak of bright sunshine hits you directly in the face. Where ever you go; no matter what; the color yellow can always cheer you up.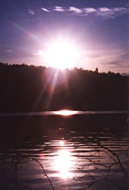 © Laurie T., Hopkinton, MA