Little Sister
January 24, 2010
She waltzes when there's no music
Sings when there's silence,
walks where no feet have touched
drifitng in and out of "normal"
she inhabits a beautiful land of magic
where faries dance rings into the grass, if only you imagine it
and dreams always come true.
Everyday there's a new adventure
something exciting to explore
a box becomes a castle,
blankets transform into ball gowns
and big sisters are always playmates.
Drama, confusiong and stress disapear
as we battle dragons
or rescue damsels in distress.
I no longer have to be whats expected
when I join her in her world of wonder
every little thing holds joy, light, an unexpected surprise
she lifts away the dreary clouds of life.
She sees the way the world really is,
without the fog of self-pity and insecurity.
She still holds that wonder for life,
that amazement at the natural world.
True love, a perfect blue sky, laughing so hard it hurts,
thats magic.
Perfect moments like that get passed by.
She still has the power to catch them, savor them.
I wonder when her years will catch up,
drag her into the deep depths of maturity,
weighed down by expectations.
Pray that it never happens, that she never loses her sense of wonder,
but if she should stumble on pain or sadness,
the clouds will remain at bay.
She has shown me the way the world truly is,
inviting, amazing, constantly changing.
I hold the light inside me now,
a flame of hope.
I will go into the world
scattering light and lifting clouds
soon others will join us
dancing in a world
full of possibilities.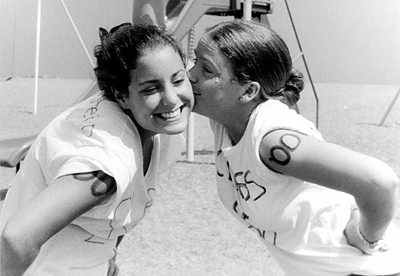 © Jessica M., Marblehead, MA