The Truth of Tears
January 19, 2010
A tear appears on her beautiful face,
it wipes away the make-up she hid herself under,
it made her feel vulnerable,
no longer as perfect as she tried to appear.
She hides herself away, wiping the tear from her face,
crying is only for the weak,
she quickly reminded herself,
if she acts strong, she thinks that she can be strong,
but those thoughts only brought back the tears,
at least now she was alone.
Alone to be her true self, as flawed as all the rest,
she hated being this way-- human,
she needed to be told the truth no one would admit.
If only alone wasn't so lonely,
she needed exactly what came her way,
him...
he found her crying --alone,
and he wiped her tears and held her close,
he whispered as gently as anyone could,
he told her of her beauty right at that moment,
he said it was because she wasn't perfect.
he held her close as she realized,
the love looking at her from his eyes,
it made her feel as real as crying did,
and she loved it.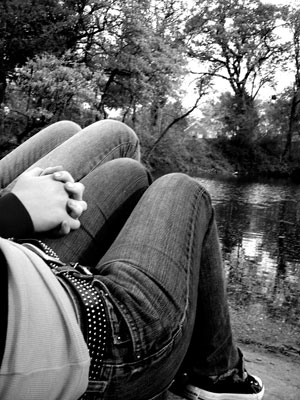 © Lauren R., Edmond, OK