Taking the Right
January 4, 2010
When it rains it pours in my heart;
These thoughts, they just tear me apart.
And, I can't find sanity in this town;
All the negativity just beats me to the ground.

That girl looking back at me;
Yeah, I don't know whatsername.
I just want to smash the mirror to pieces;
Because, I swear that girl's insane.

Happiness is never a constant;
Love is all I wanted.
But, I guess that's too much to ask.
Life stops for no one; don't dwell on the past.

This small world just seems so big;
Always ready to go but, never content.
Say I'm yours and you'll stick around;
You already know, Baby, I need to be found.

Emotions overwhelme me.
Lyrics race through my head;
Can't win this last race,
My determination's just too dead.

I don't know what to say;
I can't figure out what you want to hear.
I have a broken heart still today;
,All I wanted was you to just be near.

They say all is fair in love and war;
But, Baby, I don't want to fight.
I don't want to be the last one left;
I'd rather take the right.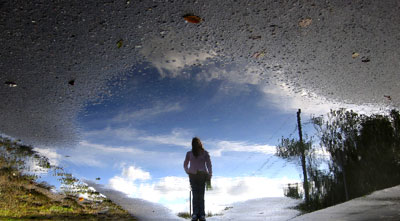 © Daniel H., Oak Bluffs, MA