My Shadow
January 14, 2010
I see you walking behind me at night
Chilled to the bone the wind hits hard
Pretending not to notice i run away
You follow me every step of the way.

No matter how fast, no matter how far
You're right behind me calling my name.
What is it that you want exactly?
Why do you feel the need to watch me?

Trying not to show fear i face you
But somehow you're just not there
Every time i turn around
You find a way to disappear into thin air.

I slowly walk through the trees
Ocassionally i peer behind me
Sometimes you're there
Sometimes you're not.

The moon still shines brighter than ever
My foot steps pick up the pace
You pick up speed along with me
Soon enough the walk turns into a race.

You run right at my heels all the way home
Not noticing much at all, i fall
Just at that moment you fall too
Must you do everything i do?

Why do you keep on following me?
You walk, you run and always keep up
I feel like i have no privacy at all
But i guess that's not your fault.

In some ways im glad you're attatched to me
For one thing, i love that im never alone
And i always feel like i have someone watching over me
Even if you're not exactly real.

Regardless of that, i love my shadow
It's always there when i'm in need of company
It can't talk back, can't insult me
And no matter what, it will never leave me.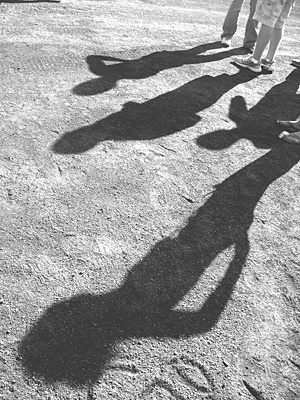 © Trella R., Mountain Lakes, NJ