Confusion
January 17, 2010
Dear confusion
Because of you I question everything
I don't know if what im thinking is really me
Or if its just because of what you said
I was okay before, I wasn't perfect but I wasn't insane
or so I think,
you've taken my sanity little by little with the things you said
those three words you just had to say
now forever burned in my mind
along with the questions and thought those three words caused
I cant sleep I stay up at night with these thoughts
wondering if its because of what you said
or if its truly who I am, if its truly what I think.
I keep telling myself its wrong, what I feel its so very wrong.
I try to hide it pretend its not their
but its their and the more I try to hide it,
the less sanity I have.
I tell myself its just because of what you said
that I never even thought about it before,
before you and your words that is.
That's true I didn't think about it before,
but then again these feelings I have are so real,
so tormenting as I try to find a meaning to them
but so very real.
real enough to keep me up at night
real enough to make me laugh and make me cry,
but its so wrong these feelings
why did you have to say those words
confusion
why?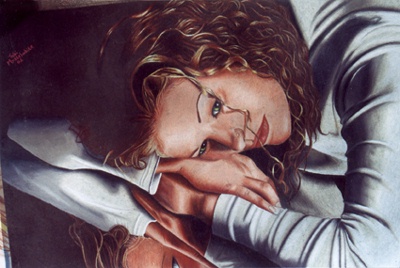 © Tabitha M., Kannapolis, NC