Admitting Defeat
January 15, 2010
the pain, its raw and yet still i talk,
they say that i don't care,
that i toy with her feelings,
i don't,
all i ever felt was love and pain,
how is that me toying with her feelings?

Most of the time i was on the verge of becoming insane,
i couldnt stand to keep away,
i needed her more then i could possible say,
and yet they say,
they say i'm toying with her,
that i don't truely care,
when all ive ever felt,
is love and despair.

Tonight i weep,
i feel like they have corrupted her brain,
ganged up and forced me away,
when they never truely could understand,
that all i did was love her,
from half a day away.

The feelings inside,
its just that numbing pain,
when you feel nothing but empty,
i like to think its shock,
because i know the pain,
its lurking around the corner,
ready to curl around you,
and slowly suffocate the life from your existance.

Sometimes i welcome that pain,
because i know i can make it through it,
and maybe not the next day,
but maybe next week,
i'll be okay,
but not this time,
not next week,
next month maybe,
i'll stop and not weep
but i'll still feel the pain,
as raw as if it was the very next day.

SO how was i toying with her feelings?
when all i do is feel for and from her,
i feel love for her,
and recieve pain from her,
its a relationship i love,
but truely hate.

they don't understand,
none of them do,
sadly its hard for them to comprehend,
that i really do care for you.
I wrote so many poems, trying to express my love,
and still i come up short.
I tell you that we were destined to be together
and you agree and say you love me,
but you still don't see,
im certain about what i say,
they just don't understand.
Why can't they understand?

I'm trying to win a losing battle,
trying to love a girl i can never see,
i would come close, but never succeed,
because they were there,
trying to kill me.
I never toyed with her heart,
i was trying to protect it,
from harm and treasure it with love.

Still she doesnt see,
i just told her that i will stop trying,
stop trying to make her fall, back in love with me,
She doesnt see, i've admitted defeat,
three against one is no fair fight,
but i'm fighting in the dark,
while they have light.
i cannot win this war,
and so i admit defeat,
i'll try and stop loving you,
never come after you,
leave you be,
but u'll never see,
that i'll never succeed.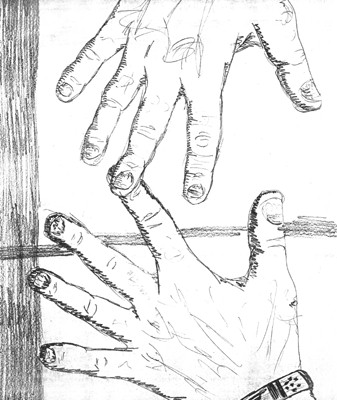 © Katie T., Hull, MA