This Boy
January 3, 2010
today,
i encountered the girl i was three years ago
the girl who was completely infatuated with you
and could not find the bravery to muster even a hint
of a word in your direction
to this girl
you
were the butterflies in the stomach
stolen-glances from a church pew
crush of a lifetime
i couldn't count the times
she, i, fell in and out of love with you
you were such a self-centered, hotheaded a**
but so charming, magnetic, and
cute
through the years we accidentally fell into a friendship
and then there was a time when we were best friends
i'll never forget the tears
mine and yours
that bound us together
and the late at night conversations
i adored every second of your attention
those were some of the best moments of my life
then deception and lies crept in
and we were oblivious as she tore us apart
our friendship unraveled
but at first i could not give you up
you were absolutely intoxicating
i could not resist you
i realized at some point i was better off without you
and that's when we became enemies
cold and silent
avoiding every encounter and every bump of our eyes full of anger
i would not move
i would not love you again
you had truly hurt me
with a sharp knife of betrayal to my heart
but
there i was again
willing to do anything
everything for you
i would die for you
i didn't know how it had happened
but there we were slipping right back into our friendship
teasing and loving each other
never as close as before
but not nearly as far
your mistakes lay bare for me to see
and every imperfection was plain
yet i still loved you
i could only wish you would feel the same
there might have been opportunities for
"us"
but i was always too scared
i would rather have you simply as friend
than chance losing you all over again
but
that
wasn't
true
at all
today when we said our final goodbyes
before we went our separate directions in life
i thought of how far we've come
who knew we would have known each other like this
and
right before i slammed the truck door
i said three words
and i meant them
with the depth the bottomless midnight sky
and right then i longed for a lifetime with you
you'll be back in my life
i know it as true as i know this
I. LOVE. YOU.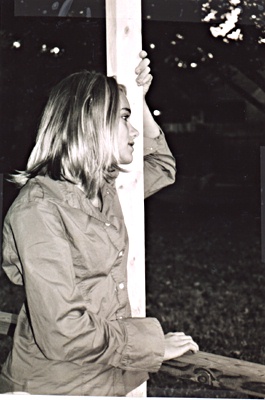 © Tiffany A., Southaven, MS