The Fall
January 2, 2010
you drink from your green bottles, while sitting on the fence,
near the hill behind your house, with your untied shoelaces,
of giving a damn, you've dropped every pretense,
and could care less about the snide looks on their faces.

it's an october afternoon,
a far cry from those days in the middle of june,
where there wasn't heat, but there wasn't cold
and you were still stupid and fourteen years old
chasing something that couldn't be
summertime asking "remember me?"

she, with blond hair and blue eyes,
eyes swathed with gold, lined into surprise,
in rows of caking black,
that run in rivulets as she cries,
laughs like the sun can't escape the day,
as if it doesn't matter either way.

they're staring into the sky, stargazing before dark,
as the noise of screaming children filters from the park,
on the air, smelling of all the seasons to come,
they sit there laughing, looking at the runs
in their stockings, at the holes in their sweaters,
at their teenage abandon, at their lives unfettered,
by dates, notes, black-white text and letters.

you ask yourself if it'll be different, you wonder,
and the calendar tells you these days have numbers,
and each one is a different squiggle on a lined page,
that's proving that you change, and you age.

on your fence, you lean, and you think about it all
while the first casualty of the season, the first leaf, falls.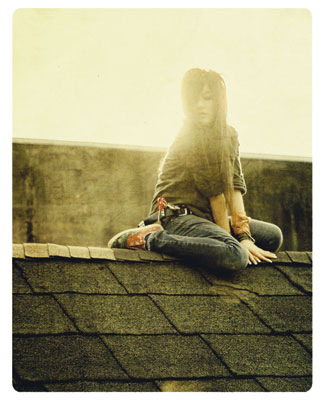 © Hailey J., Lake Oswego, OR