Harlot's Hollow
January 11, 2010
The legend of three beautiful women is told,
when the world gets dark and the wind gets cold.
Tonight is the eve of the tragic event,
say the cursed townfolk with deep lament.
On this night, many years before,
three gorgeous sisters found dead on the floor.

But the true horror was in all the rest,
each of their hearts had been ripped from their chest.
Everyone in town had heard the screams of pain,
holding their breath and ignoring the rip of every vein.
In their frightful state a curse was laid,
for no one would step up to the sister's aid.

The townsfolks' remorse was far too late,
their selfish acts had sealed their fate.
The townsfolk went on with the horrifying details,
the stories of murder that haunt the forest trails.
A foolish tourist paid no attention to their morose warning,
laughing and saying she'd be back in the morning.

Not believing was the worst crime of all,
the townsfolk knew they would see her downfall.
In sadness and ailment they watched her flee,
it was the last time she would walk through those trees.
As nightfall drew she was becoming more aware,
haunted by the townsfolks' univeral empty stare.

It was simply a ghost story to keep the children at home,
they didn't want them playing in the forest alone.
Panic overcame her as she was alone in the dark,
she cried aloud after hearing the sister's grotesque mark.
A bloodcurdling scream rang out through the night,
she jumped and began to scream out of spite.

Running from the screams and yells behind her,
she prayed that this was only a cruel reminder.
She knew this must be a painful joke,
until a haunting recognition made her choke.
"Never to live, never to die, never to love, never to cry"
the immortal townsfolks' ghost story was no longer a lie.

Remembering the shame of the sisters murder,
she knew this presence really wanted to hurt her.
She screamed as the regretful tears washed down her face,
movement behind her verified the chase.
She ran for the town but everything had changed,
it seems even the trees had been rearranged.

As she convered an old sign she lost her breath,
she knew she was seconds from a horrible death.
As she read the rotting sign her skin turned cold,
wishing she had listened to the warnings she was told.
She closed her eyes and felt her last swallow,
(UN)welcome it said, to Harlot's Hollow.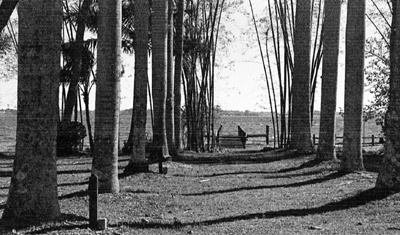 © Gizelle S., Miami, FL