Water
January 8, 2010
The moon goes up,the sun goes down.
I step into the water,
Careful not to drown.
Theres no stars in the sky.
As empty as your heart.
The cold and brittle air,
It rips my warmth apart.
Reflective water shining.
Such a beautiful sight.
The water pulls me in.
I don't put up a fight.
The silence hurts my ears.
It screams with all its might.
As it gradually gets deeper,
It holds my body tight.
I'm under, panic rises.
I don't know what to do.
The waves are getting stronger,
In the vast, immense, great blue.
The time is moving slowly.
I don't notice as I fall.
The feelings all around me.
My breath is growing small.
Life is not up.
Thats not what I want,
But I can't move a muscle.
The water wants to taunt.
I hear something above.
A boat a bird a plane?
I'm waiting for the rescue,
While my head just goes insane.
Finally, they found me.
I always knew I'd last.
What was I thinking at the time?
No clue, that's in the past.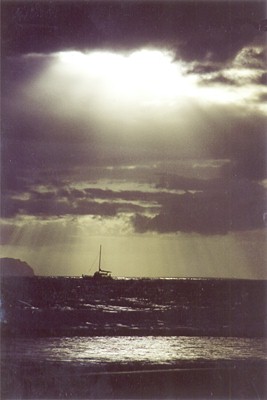 © lily H., Kekaha, HI