Gone fishin'
December 22, 2009
An obnoxious shaking reels me in
From the depths of my dreams.
By the time I reach the surface
They have slipped from my mind
Though I struggled to hold them near.

My dad is shaking my arm.
Ten more minutes I mumble incoherently
A sudden draft of cold air,
I realize the sheets are no longer embracing me.
I stumble from bed to a warm shower.

Once downstairs we heat water for tea and
Throw our fishing gear into the car.
At the bottom of our hill we buy bait and cinnamon twists.

We arrive at the lake full of hot tea and pastries
A huge cloud of fog surrounds us.
The sun appears only as bright as the moon.
Some geese see us nearing and take flight awkwardly.
We pull out our fishing rods and walk to the canoes
Flipping one over I hop inside
My dad loads the poles and
Slides me into the water
Then climbs in himself.

We paddle out into the fog
As we bait our hooks
The fog lifts like a curtain unveiling
A rainbow shimmering in the golden sunlight
Fading as fast as it came
Leaving only a memory.

After a long wait I feel a slight tugging
I pull sharply on the pole to set the hook and begin to reel
The peaceful morning turns to excitement as
An angry bluegill breaches the crest of the water and land in our boat.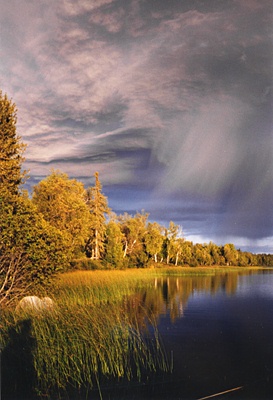 © Dustin B., Nikiski, AK