Blind Date
January 12, 2010
It was one of those arranged
Meetings with a friend of a friend.
I remember waking up extra early
To curl my hair until it was
As bouncy as a basketball.
My outfit had to be run way model perfect;
Tight blue jeans.
My favorite pink blouse.

It was only a half day
But enduring the anticipation
Was almost too much.
I stared out the window the entire
Three hours.
Glancing at the clock every five minutes
As if the hands would
Start moving faster the more I looked-
They didn't.

When that final bell rang
I practically ran to my car.
I sped the whole way to his house
Not even knowing who he was yet.

Normally I wouldn't get like this
About a boy,
Especially one I had never met.
But I just had this feeling.

I walked up the steps to his door,
My heart pounding like
The hooves of a million horses.
The butterflies in my stomach
Were trying so hard to get out.

He came to the door,
I watched the handle turn
And so did everything
I had eaten at lunch.
But when his face finally appeared
Everything just-
Stopped.

We exchanged smiles
And our eyes locked.
It took a few minutes for both of us
To find the words to say..
"Hi, I'm Chris."
"Hi, I'm Macy."

And surprisingly that's all it took.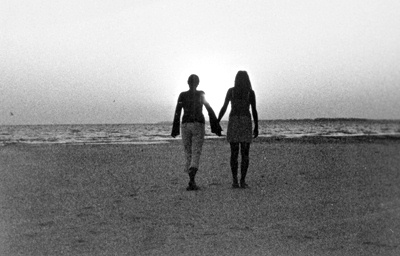 © Kim B., Marblehead, MA