Her Work
MAG
January 12, 2010
Each morning, 5:30 a.m. finds her in the bathroom mirror,
tired eyes criticizing a young girl
long before her sleeping family stirs.

The straightening iron crackles on,
ready to run commanding claws
through those bouncing corkscrews that make her father smile.
Now, though, those cursed curls are only frizz and failure.

Hair is plastered down, bound in chains
to achieve The Look,
the blond brilliant bombshell which her TV orders.
Her work is far from done.

Slowly, painstakingly, like da Vinci with his Mona Lisa,
she traces around and above her blue eyes
with a black mask of charcoal.
Mascara clumps cling heavily to her dainty, dusty lashes,
turning fair into false.

Eyes are rimmed in deceit, laden with lies
to achieve The Look,
the bedroom sexy eyes which her magazines demand.
Her work is far from done.

She blots out freckles and sun-kissed spots;
every small, insignificant blemish is a casualty to the brush.
A mask of cover-up, tinted moisturizer and foundation
takes down her young fresh flesh like a wounded soldier,
and suffocates her skin.

Face is smoothed over several times, flattened with fraudulence
to achieve The Look,
the pale fair face the advertisements promise.
Her work is nearly done.

Slipping on shoes that pinch,
jeans that constrict and feel painted on,
a shirt cut too low, and jewelry too heavy,
she turns to the mirror, not quite content, but good enough.

7:00 a.m. finds her looking at a girl in a mirror,
heavy eyes staring at someone she doesn't know.
Her work is finally done.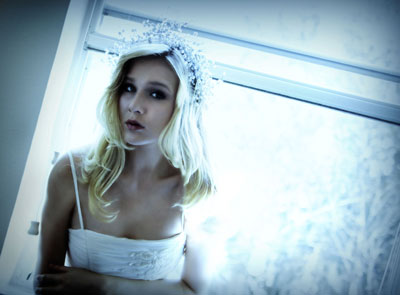 © Adriana M., Winter Park, FL