The Horse Race
January 5, 2010
Lined up in the gates,
The horses are snorting
And ready to go.
The bell rings,
The gates open,
For a second everything is quiet.
Then you hear
"And they're off!"
The horses are flying
Not yet at full.
Hoofs and dirt flying,
Flying every which way.
If you listen closely,
You can hear the hard breathing of the horses,
The soft turf under their hoofs,
And the crowd cheering.
The horses are young
And their bones aren't fully developed.
One colt goes down,
Taking others with him.
You can hear the screams,
The screams of other colts.
The fear racing through the jockeys.
The others race on.
Going around the first turn,
A beautiful bay filly leads the race.
They get to the back straight way
And pick their order.
She continues to lead.
Her legs moving faster and faster.
Around the last turn,
A few seconds past
And everyone is silent.
On the final straight way,
The colts and fillies are let go.
The bay is slowly decreasing her speed
While others pass her.
A black stud colt steals the lead.
He runs like the wind,
Floating above the ground,
Glistening in the sun light.
His coat shines blue.
He has a star in the middle of his head,
With four white stockings.
He continues to pull away from the herd.
Lower and lower.
Faster and faster.
His breathing becomes harder.
He passes the finish line.
Every one cheers.
A roar from the stadiums
Fills the afternoon sky.
The black colt is led to the winners circle
Where he gets roses on his back
For he has won.
Won the Kentucky Derby.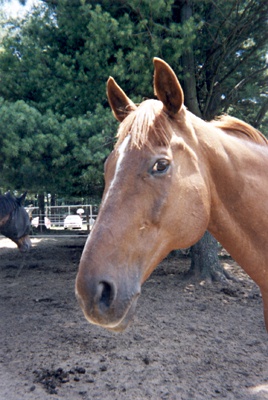 © Dana G., Milford, CT