I Am From
January 5, 2010
I am from laughter,
and personal gatherings
Hard working parents, lovely goal-setting individuals, that have different ideas.
Nice clothes and warm homes,
separated parents and families are where I'm from.

I am from "do well in school"
and "your not average, your better."
From an easy goin' mom and a non-stop dad. A successful family is where I'm from.

I am from fancy restaurants with mom and basic foods at dad's.
From my Italian roots to my Spanish leaves,
my heritage, crazy and fun, is wild and free.
Heinz 57 is where my blood is from.

If you knew me, you would know that I'm from Arizona,
but I'm a person who travels and lives places besides that.
I am from my family and the personalities that they shine on me.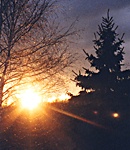 © Christy S., Germantown, NY