You, Him and I
December 7, 2009
Something to be missed
something to be kissed
away
on the tips of your fingertips,
so close. Yet gone.
And I wake up
go the day by day
wishes that just
fly away.

School, school, school
so cool.
Cool, sly, under the radar,
yet you secretly run everything?
Don't think so.
You might try.
But I don't think so
don't you try and make me cry
because I walked away from your
ever so idiotic
ever so unpatriotic
not that you care, of course
just another network lost, that's what you said
and yet, I'd rather end up dead
than share my miseries with you.

You.
Remember flash backs,
remember flash backs,
you made her cry,
made her die, a little, inside
made her hold me close on the night
that was supposed to be
for her.
Hadn't I promised?
And you,
you kept going,
kept going,
going
until I wanted to hit you
wanted to scream
can't you see
you're being mean
I wish that you
could see her tears.

Tears.
I couldn't go on with tears
tears
tears
tears
fears.
No, no, no, no, no, no, no, no
I will not go down that path
will not.
Cannot.
I
I
I
I
stammerings, screamings
just take away the pain.
God it's all a game,
to me?

You.
You made her cry.
I?
I . . .

love is supposed to be a beautiful thing.
Caught on the tips of your fingertips,
when you can't pull your eyes away from someone
because they complete your ever
idealistic notion of
the world.
Make you laugh, make you smile
'chin up, chin up'
isn't that what you said to me?
Perfectly.
'no.'
and I knew it caused me pain
but you?
Did I treat you the same?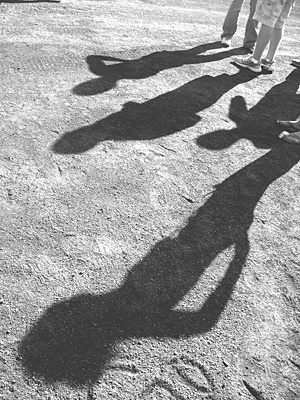 © Trella R., Mountain Lakes, NJ