The Bullies
December 7, 2009
Some people are truly cruel
I'm pretty much used as a tool
I feel like a plastic army toy
For someone to hurt and destroy
For fun they like to try
To make or see a girl cry
They make up the dumbest lies!
People see hatred in my eyes
When they make up stupid rumors,
this bile of hate grows like tumors!
For talking and acting so dumb
I'd make them crawl in a corner at school
So that they can suck their thumbs
But the school has made rules to imply
Retaliation is not a word to live by
So Bullies... better thank the rules!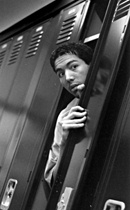 © Paulina A., Marblehead, MA