The Magical Feather
December 17, 2009
Long Spindly fluffy fingers
Gently wave in the breeze.
Each attached to a backbone like stem.

Grasp the white stem
And gain the power of flight.
Feet begin to levitate
Toes skim the soft blades of grass.
Float towards the cerulean sky
Suspended past the clouds.

The sun gleams off the regal colours:
Royal blue. Emerald green. Magnificent gold.
The eye is ever watchful.
A black iris
Reflects the soul.

It is what directs you to the
Appointed destination.
The eye remains unblinking
Always staring
Blankly
Into the vast universe
Enveloping you.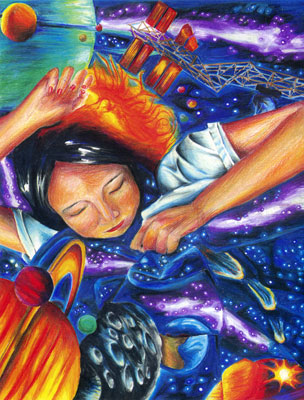 © Samantha P., Flushing, NY