Kids those days...
December 12, 2009
I remember a time where things were simpler.
Where all of us could chill doing nothing.
Where we would all be able to find something miniscule to pass the time that entertained us slot. 
Where running in aimless circles was fun. 
Where absouletely mindless insiders among oursleves would be the thing we revolve around for extend periods of time and that would remain what plays our lives out. 
Where when we liked the opposite sex we would make a total big deal about it and in the end either never make a move or never get what we wanted. 
Where the word "love" could be thrown around. 
Where the only way to get what we want is to throw temper tantrums of some sort to inevitably mess with the minds of the overseers in our lives. 
Where we could be happy with just a quarter a day so we could buy chips at the store. 
Where materlistic things that pertained to us were trivial things such as school supplies or bubblegum. 
Where candy was our world. 
Where we could feel hardcore by doing the simplest things. Where we would make nonsense games and play them for hours on end till it morphs into something completely different. 
Where we could whisper in ones ears without the message being such a dramatic secret that the world should not know about. 
Where we would cry for no discernable reason for days. Where following others was not such a big thing and interpreted through games. 
Where we could make very random songs about our irrational moments in our days. 
Where we wore overalls. 
Where we would eat with everything but our mouths. 
Where anything was funny without our eyes being glazed and tinted red. 
Where sex was one of the most disgusting things that we could possibly lay our eyes on, let alone affection. 
Where we could not like the opposite sex and not be gay or lesbian. 
Where our vulgarity varied from words that can't possibly be considered as curses. 
Where school was fun. 
Where we didn't understand everything around us and didn't care at all. 
Where easter remind us of chocolate. 
Where Christmas remind us of more then just recurring members in our family exchanging gifts. 
Where we would be tough for staying up or getting grounded. Where we would knock out at nine o clock. 
Where milk was our main drink for energy. 
Where we could do stupid things and not look stupid at all. Where all of us can be happy together without being together. 
Where fights didn't involve punches or deadly contact. 
Where the corruption of our world didn't affect us much. Where our parents did speak a different language. 
Where the cartoons on tv could actually relate to our lives. Where board games were fun for us. 
Where we could feel the wind blow through our hair and get a adenaline rush from it. 
Where we were the superheroes we always wanted to be. Where we wanted everything that was so sterotypical to us. Where all the things we could do now would have been amazing to do back then. 
Where we loved our siblings. 
Where we didn't see razors for other means then to shave ourselves. 
Where we will always have a smile on our faces and nothing could possibly phase us because we didn't have to have a reason to be happy.
Wher we knew better. 
Where all we wanted in life was to be a grown up, to grow in size and maturity and intelligence, and to savantly prosper. I miss those times, because in our generation that we unconsciously developed throughout the years that passed by, we forgot to appreciate all the simple things in life.
All we want now is to get big. Bigger cars, bigger house, bigger wads of cash, bigger life.

Doesn't that still make us kids?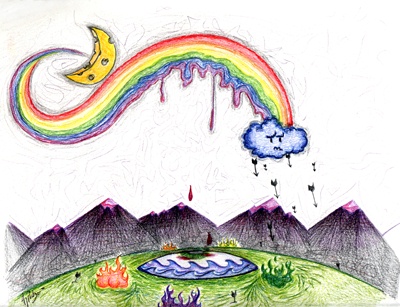 © Alexa P., Ridgeway, PA