Wolf.
December 23, 2009
Running through the trees;
I can hear the crunching leaves
Beneath my paws.
My claws kicking up the dirt;
As I move forward at full speed.
The low branches from the trees;
Whip me in the face.
And briers cling to my fur.
The closer I am to my destination
The more my heart beats;
The more adrenalin feeds through my body.
I can hear my heart beat in my ears.
It beats in the same pattern
As my paws hit the ground.
I hear the wish as I pass the trees.
Something sounds off.
I stop to listen.
My head held high.
Nose in the air;
Sniffing for something different.
I hear nothing but my hearts fast beat.
I smell nothing but the nearby pine trees.
I take of running again;
Into the same rhythm as before.
The one that matches my hearts fast beat.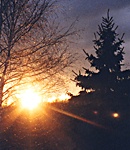 © Christy S., Germantown, NY