A Distant Sun
December 23, 2009
Young, we forever
seek this elusive enchantment;
we yearn inside, but we rarely
let our feelings slip

For shame or for pride. And yet
we fear ourselves, we yearn for
yet fear the foreign feeling when
it twines itself so thoroughly

in our young beating hearts,
twisting our minds—a heated
uneasy feeling. We struggle
against its powerful grip

For it makes us do strange things,
this unruly wild child of passion
and caring; we are slowly drawn
in by its intoxicating spell, eventually

becoming slaves to its bidding,
chained to our desire as the dawn
is to the sun; for when else do
we see her rosy wings

spreading across the sky, except
as she smiles at the sight of her beloved,
the golden god of day? Without our sun we are plunged into darkness and despair,

and the only cure is the return of the shimmering light of day to bespell us once more. Until then we are only kept alive by the distant glimmering

of promise, reflected in the winking of distant stars.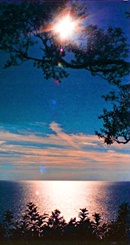 © Crystal B., Gresham, WI