Presumptuous Watchdog
December 16, 2009
He said it was a box, with two things in it.
Really?
And it'll be tied with a pink ribbon. I've got to say you've trained him well. The infatuation though, it's like a vivid violet screwdriver that keeps rolling over again.

Will you watch him again?! I'm begging you!!
Fine. But you'll have to feed me…it's like a detective game.
See you at Blue Rock Road, on the corner.

I can't believe it! That present isn't for you! Why I oughta go in there right now and—you stay here.
No! I'm not going to face it!
Go in there! Give him the treat of knowing how you feel! That'll exercise his mind!
I'll tell him it's over. To stop petting my head and playing with my heart!

Well? Did you walk all over him?
No. He said…
No?! He said! He gets off just by playing dead? I don't think so! His apology was as murky as that mascara black puddle of oil! He's cheating on you! Do I need to shake you?!

Vanessa! Stop fetching assumptions clear out of the midnight sky! It's for his mom!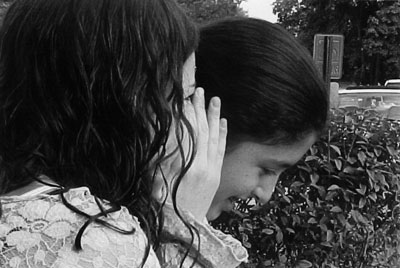 © Jill H., Pompton Plains, NJ