Like Dylan
November 23, 2009
To stand like Dylan beneith the diamond sky,
To choose one path like Frost tonight,
To walk the rocks and slip and fall,
To run like Bolt and not get old.
To jump like Jordan and forget to land,
To soar like Wright and smile down,
To feel Ringo's beat against my heart,
To hear a whisper in my ear,
And know that amidst the swirling winds of seconds,
Woven in a cloak of drawn out minutes,
Lies a place of towers and flags awaving,
Where trumpets sound and problems forgotten,
Where gates swing forward,
And clouds are cozy,
Where ice is warm,
And bombs don't fire,
Where one can jump and run and fly,
And feel like Jordan and Bolt and Wright,
Where eveything shines with a golden glow,
And sparkles like jewels in the morning dew.
Where one can dance across a windy beach,
And stand like Dylan,
Benieth the diamond sky.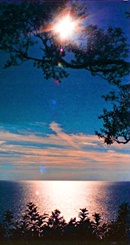 © Crystal B., Gresham, WI