The Luckiest of Days
December 5, 2009
Only on the luckiest of days,
Will the Sun grant your wish to illuminate our world,
As seen from the newfound shadows and golden hues,
Astray from their proper belongings in June,
Yet peaking through,
On a day in November.

And to lament the clouds,
For their participation is not needed on this day,
A day to retire overcoats and sweaters while the Sun allows.

And I, suffocating blades of grass with my belongings,
Choose to embrace nature's own discourse,
Making sure not to miss its short-lived, urgent bliss.
Setting up camp on a space of Earth to myself, I lay in wonder.

Shine on the trees, glare of the heat, moisture of the Earth from a morning shower,
Welcomes the chaos of my body for the hour, hopefully not to overstay my welcome-
For I know I am here at another's expense, imposing on Nature's factories.

You shall not be tricked by the stillness, the beauty, or the simplicity in the scenes.
For tiny microcosms, laboring beneath
Supporting the frame of the picture you ponder,
Cannot be as greedy as you.

To internalize every glance,
Every moment as a precious creation of the inner-workings of the landscape,
You shall listen to the wind and the still for the in-between.

The breath from trees, sun-lit ant-made mountains, scent of post-rain dew,
waves of wind, river-run, sand-drawn love,
All around me as I recline to view the outermost land.

I have seen the effects of a greedy sun,
Of a selfish sun, and of a generous sun.
For to enclose all of the light in the day as one,
Leaving a tiny crack to seep through some shine,
I'd have but too much pride not to take solace in my temporary greed.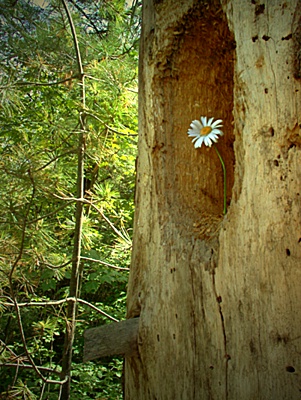 © Anna R, Sudbury, ON, Canada