Have a Nice Life
December 9, 2009
I stand in line between two kids I never remember knowing,
Our only comminality lying in the letters of our names.
I haven't seen the bleachers this full since October at Homecoming,
But now there are more parents of teenagers gathered in one place than when Jimmy Buffett came to town.
My cap is too tight and the tassle flirts with my eyelashes
My tall pumps, sending my head up above everyone around me,are showing under the itchy, blue gown,
Which flutters silently with each slight breeze.
I know exactly where my family is sitting,
Mom with her camera, Dad with his school spirit pom-poms,
My best friends scattered among the line,
Stealing quick glances and making obscene faces at one another during the principal's speech,
Not totally oblivious to the annoyed glares from the audience members,
but simply, what do we care what they think about us,
Because we're almost out of here anyway.
But then they call your name, and all my surroundings disappear.
You--
Walking up to the stage toward the principal,
Making my knees buckle.
A swarm of memories from the past four years attack me like the bees in the air
I can peg it all the way back:

Starting with the first "Hello," meeting at the Freshman Year Greeting,
Through the familiar smiles in the convienient store aisles,
To the passing glances at the big school dances
Or cheerin' your name at the football game.
And as you stand up there, taking your last high school steps,
The thought breaks my selective barrier--
The thought that it was too late.
The realization that after today, you would be gone,
And you would never know the thoughts
That run through my mind every time I see you.
Every muscle in me itches with the urge,
The urge to just yell it out, open my heart,
to put my soul out on the table,
Before it really was too late.
But that one muscle in the back of my mind wins out once again,
And I remain still, silent.
As you turn your tassel, grinning wide for Mom's camera,
I tell you in my mind:
"Have a nice life--I wish I had been brave enough to tell you..."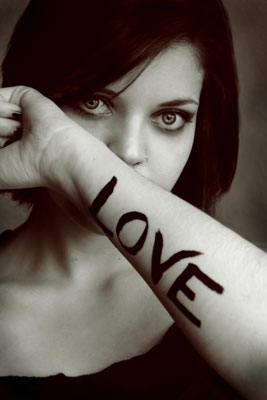 © Michelle B., Blairsville, GA