Where I'm From
November 25, 2009
Where I'm From



I'm from Teton Ave. in Bozeman, Montana
a few minutes away
from lakes, camp fires, and hiking
up in the mountains


I'm from mountains on three sides
spending time with family friends
and the Bozeman Christmas Stroll

I'm from no matter where you go
you will see someone you know
and from laughing until you forget what you are talking about


I'm from Mom doesn't want to cook
so we are going out to eat
hamburger with French fries and salad on the side
tomatoes, lettuce, ranch, and cheese
sometimes maybe croutons
people try to eat my salad
they know how good I fix them


I'm from fruit and yogurt parfaits
and mango smoothies we make ourselves

I'm from homemade jam
and my grandma's chocolate cake with homemade white icing
for all of our birthdays

I'm from popcorn and hot cocoa with marshmallows at sleepovers
even in the summer


I'm from having a room all to myself
with no sisters or brothers to stay up late with


I'm from every song that I love on my cell phone
I'm from Trace Adkins
Martina McBride
Carrie Underwood
Jordan Sparks
and always Taylor Swift


I'm from Teke the "defender dog"
a black shepherd-chow mix
who was grouchy and mean
but we lost her too soon


I'm from Lilly "the sweetheart"
who ran far away
and from Shiloh "the runner"
who we had to give away


I'm from T-ball when I was four
hardly ever hitting the ball
always hitting the T instead

I'm also from soccer
when I was four, five, six, and seven
not aggressive enough
to go after the ball

I'm now from volleyball
from seven years
until now
having a good team
but not winning
a single game yet this season


I'm from my entire family
who I love to death

I'm from all of my friends
who are absolute best


I'm from school
and sports
and schooling some more

I'm from a volleyball in one hand
and a pencil in the other


I'm from mountains in Montana
and the corn fields of Illinois
to the wind of Cheyenne, Wyoming
to hardly any winter in Grand Junction, Colorado
and now going back to the mountains and winters
of Montana


But I'm still here.

NOW.

Volleyball, learning.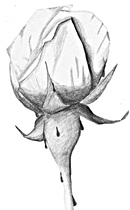 © Elaine S., Phoenix, AZ