A star twice the size of Jupiter
MAG
November 20, 2009
I often compare finding you to searching distant stars for Martians,
but you will be the one, I know, who will take me on that magic carpet ride; maybe I
won't ever return, lost in your eyes, in the reflection of stars and sunrises
and the moon. She will smile down on us, and in my dreams I hear her say;
"Yes, this is right. This is true." For it won't take long
to know that our hands fit together like they were molded that way, and I
won't want to let you go.
The stars will spread their brilliance around us, and linger there until the sun,
with her laugh like a clear creek and the blue of your eyes, will shove them
good naturedly on the way, and stretch her arms around the earth.
You will be lying there with me on the hood of your beat-up pickup truck, fingers
teasing the curls in my hair as the sun extends her influence, watching
the world around us come alive –
the birds squabble in the trees, a squirrel searches for the nut she has lost. And ­because this is only in dreams, the proud kudu with his spiral horns will greet us, and maybe the panther will come too, sleek and cunning in his darkest fur.
But Martians are from Mars and can't be found on distant stars, and maybe that's why
I can't find you either.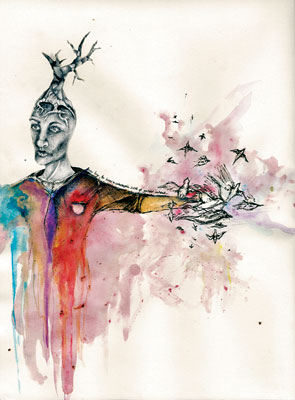 © Alice B., Sarasota, FL