Silence and Nothings
November 20, 2009
Silence is surrounding me, enveloping my senses like a tornado causing all my thoughts to stir.
Stirring inside is an urge to escape the uncomfortable feeling.
For what I am used to is noise.
People talking, breathing, music, any sound,quiet or loud.
Cars stopping and starting on the streets.
ACCELERATE! ACCELERATE! the thoughts in my head are stirring faster and faster spinning faster and faster until I cannot handle anymore.
I stand up and scream but nothing responds I scream again and nothing replies.
I begin to question reality of the situation.
This musn't be real but a dream, it must be a DREAM!
Although not one of those pleasant peaceful dreams but a NIGHTMARE!
A nightmare of confusion, SILENCE, and NOTHINGS.
Then I awake to the abnoxious alarm of the clock on the nightstand.
It is a relief. The comforting noises I'm accustomed to still exist.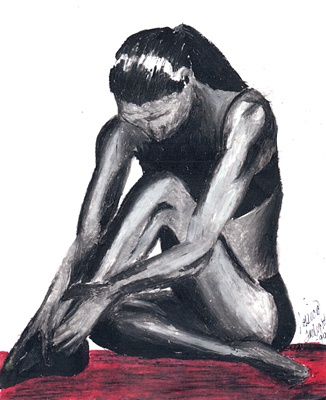 © Jessie Y., Ahwahnee, CA