Stone
November 19, 2009
All the things you do to me,
You know you drive me mad.
I hear your voice, and lose my mind
lose all composure I had.
I miss you and I can't deny,
I'd do anything
to hear you say you love me so,
and make my sad heart sing.
I don't think you understand
the power that you hold
I hear you and I melt like clay
And I am yours to mold.
You dangle me from dainty strings,
but promise they won't break.
You told me years ago it seems,
my barriers you'd shake.
Shake them til they crumble.
til your skin is touching mine,
til the stars inside our eyes,
dance around, and intertwine.
But like the doll you think I am,
you play with me, a game
and tell me that you love me
but i hang my head in shame
to love is weak, and i love you
I guess that makes me small.
But of all the things you make me,
happy is the worst of all.
cause you change your mind like weather.
one day hot, one day cold.
the pushing and the pulling,
I must tell you, it gets old.
So please, for my sanity
either let me go,
or tell me how you're feeling,
otherwise I'll never know.
All i've ever wanted is your happiness.
Your bliss.
So say goodbye if that's what you need,
and seal it with a kiss.
I will miss you, more each day,
but someday i will see,
I make you go crazy
as insane as you make me
so, ill keep to myself, and let it go.
I'll finally leave you alone,
my last words, thank you.
for melting this heart of stone.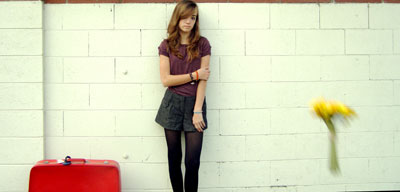 © Austin K., Studio City, CA