The Other Girl
November 19, 2009
It's been so long since I let you go
Since the day I cut the strings.
You would have died for me but I'd had enough
and it was time to break us free.
You were hurting me, I was hurting you.
And I thought we just weren't meant to be.
But now I see and now I know
how wrong I was about you and me.

Moved right along, I faked the game.
Tried some different people and ran the race.
But I must admit, I never felt the same.
Their kisses weren't as good as the one's you shared with me.
My stomach never dropped and the goose bumps never came.
I sat there wondering all along, why things just quite weren't the same.
You treated me like crap for over a year and a half,
but why does my heart just keep coming back.

By the time I woke up and figured it all out.
You were hurt too much and gone out the door.
You liked someone else and it didn't all sort it out.
What she have that I didn't?
Why you weren't you crawling back trying to help us out?

Farther and farther you went.
But you were so close all along.
You played my heart like a violin,
but the song was always wrong.
You held my hand and kissed my forehead
but never came back home.
The door was open, my arms spread wide,
but you stood there just watching me cry.

Once so strong, I started kneeling on the ground.
I thought I knew what I wanted all along,
and was sure I could stand on my two own feet.
But the memories came flooding and all the things we did,
I started missing you and the days before this haze.
I woke up and smelled the roses and realized what was wrong.
A part of me was with you, a part was so long gone.
I gave you something and it was unconditional.
It hit me with a shock.
I'm still in love with you,
and no matter what, you're all I've got.

Even though there's someone else, I still can't let you go.
Try as I might, want nothing more, its just impossible
Its getting hard to eat, and I'm sick of restless sleep.
Check your facebook everday,
And look for your car on the opposite lane.
When I pass your street I can't help but wonder,
If you're alone, if you two are together.

Our connection, it's still strong.
I know you better than your mom.
See you everyday sometimes I fake it and just stand tall.
I know I screwed us up, but can't you see I want it all back.
Leave what you've got alone, we both know where you belong.
Is this a joke, can you just not see?
Lets face it….i know you're still in love with me.
Can't stand to see you so far away,
a part of your life that I can't see.
Please babe, please come back.
I'm the one that needs you right beside me.

Who does she think she is?
I know she doesn't feel the same.
She looks at him, but it's not in her eyes,
the love I feel that drives me insane.
She can hate me if she wants to,
but I can't help it, he's all I have.
She still laughs, she still runs,
she still smiles, she still stands.
If she knew what he did to me, and how I feel,
she would fall down to her knees
and land on the same low level as me.
He's the one that understands,
and knows that other side I hide.
So maybe it's the wrong thing to do,
But I'm gonna fight to get him back.
I'll support him when he's down
and always have his back.
Reject me as he might,
Call me a stalker if he wants,
I'll wait at the door patiently even when it's shut.


Whoever said love was kind needs to shove it down their throat.
Love is helpless, lost, and obsessive.
It's merciless and doesn't let you off the hook.
I now know why people die for love, why Romeo sacrificed his life.
It's a feeling I never thought I could feel.
Something stronger than anything else,
A passion that overtakes my being, even when he tells me I'm out.

Whoever's in my way better move.
Because I can't help the things I do.
Don't take it personally; just know how hard it is.
I would cut off my right hand to get back my man.
No matter how much I might hurt you,
I'll might get in the way, or cause a scene;
just rest assured and know.
That the pain you feel cannot compare to everything inside of me.
How lost I am without the part that boy still holds in his hand.
I only pray to God that this all stops,
that I can be set free.
So I can be the bigger girl
and treat myself for what I'm worth.
One day I'll figure out that sometimes love's not enough,
That respect and virtue have triumphed since birth.
But sometimes, well, you know, it's just tough.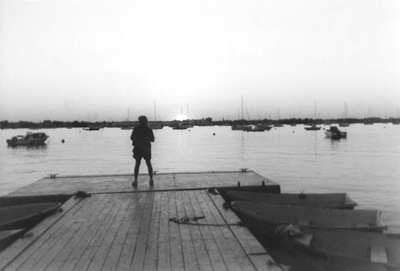 © Lindsey D., Marblehead, MA