No pitty, please.
November 18, 2009
Walking- alone, barefoot where the water drowns the sand feeling helpless; holding my head in a brief moment of self pity.
Here I am, helplessly drowning in confusion, as I sink down deeper deeper I am engulfed with unbearable, impossible, urgent decisions. Fighting for my life I desperately gasp for a guiding hand.
Someone to help with these unbearable, urgent, impossible decisions that could mean my life or death
We were supposed to be sightseeing today. Instead the day was started with an insistent phone call from my endocrinologist- with the final results.
After 90 minutes of terror-stricken questions, the phone, thoroughly soaked in mom's salty tears, met the receiver once again and my parents woke my brother. They held his hands and he acted tough as they told him my news.
He swallowed his tears and hugged my mom never once showing his fear. He swore up and down that he'd be with me through everything.
I was the last to be told, I didn't cry at first. My brother wrapped his muscular arms around me tight and a single drop of my devastation landed on his shoulder.
We each went our separate ways for we all had too much to think over
My mom cried for hours on the couch- fearing for my life. She thought why her, why us, why this.
My dad worried about our million expenses to come. Blood work panels every Saturday, MRIs twice a month, not to mention the vital surgery pressing on our minds.
That vital surgery, my biggest decision I have yet faced- I faced alone. I could let my brain tumor kill me or I could risk the surgery.
No one could hold my hand through this decision as no one could ever deal with the tremendous pain they would face if the surgery went wrong- so I faced it myself.
3 months went by, decisions made, I took the tremendous risk. I sat in my same spot in the same endocrinologists' office- this time scared more than every time before it.
I put on my tough face and confidently told them my decision, still second guessing it inside.
They supported me and we began the arrangements. After all this, all the lost hours of sleep, all the uncertainty- healthcare couldn't cover it.
It was too risky of a surgery and we couldn't prove yet I was cancerous. There was no negotiating- no was no. I'd have to live with everything I've been feeling for so long. Not only all the symptoms, but the fear, the guilt, the Worry.
Four long months have passed since that day, the emotions lingering still. It hasn't gotten any easier; I still can't play sports, I still fail my tests when those disabling headaches come, worst of all I still don't have someone to tell or talk to or to trust
I want to scream from the top of my lungs for help or just for someone to talk to, but I can't, because once people know I'm never treated the same.
All of a sudden the world stops on a dime for me when I approach the slightest obstacle.
Everyone wants to help me and be my friend and take care of me. It might sound appealing, but I do not need to be taken care of and I definitely don't need your pity.
I don't want pity, just understanding.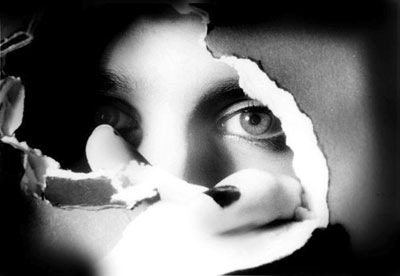 © Tabatha B., Peoria, IL