Rythm of love
November 17, 2009
Your paradise isn't tropical,
not filled with coconut and sea salt.
It is rustic
fresh pine and churned earth.
So you stand out on the dock barefoot
The chill from the wood working its way through your feet and up your spine
the scent of the pine trees envelope you. somehow..its just easier to breathe out here.
your lungs can relax...
small ripples form, dancing their way over to you on the lake front.
The morning on the lake is serene, everything is slower and more planned. Every curl of breath from your lungs is slow to leave...lingering.
When the sound of the first boat is revved
your heart practically shatters.
The ripples are more frequent, no longer at their own pace...
the serene is gone.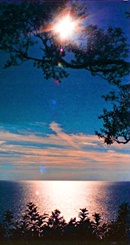 © Crystal B., Gresham, WI