A Dream
November 16, 2009
A dream is a place
Deep in your head
Where you can see someones face
even if they might be dead.

A dream is a wish
That you make in secret
The secret might be childish
But it is how you interprit.

A dream is a fairytale
You think of whn life is hard
so you can follow a trail
And let go of your guard.

A dream is a person
That you want to spend time with
And you dont want your relationship to worsen
even though the dream is like a myth.

A dream is something special
Something to thank God for
It can be very spiritual
'Cuz He loves you down to the core.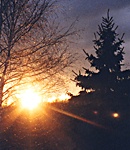 © Christy S., Germantown, NY