Saturday satisfaction
November 22, 2009
His hand traces my palm as we sit and gaze out at the sky.
Waiting for our friends to arrive.
His laughter brings me joy. I can hear my heart thump.
When our friends arrive that's when the fun starts
The race to target is swift and fast.
All of our pockets filled with cash.
Laughter is filling the air
Pedestrians stop and stare
He grabs my waist and pulls me closer
A perfect hug for a perfect day.
I kiss his forehead and skip away.
He chases me down the aisles
I try to hide for a while
Someone finds me finally
And I laugh hysterically.
The sun is setting
It soon grows dark.
So we make our way to the local park
The sun goes down and I must leave
Before my parents murder me
Staying out past curfew is so much fun
But my parents ground me so I'm done
I kiss him good night and hug him tightly
His friends whistle and mine giggling
I was my hand at them and tell them shut up
I wish everyday could be this much fun.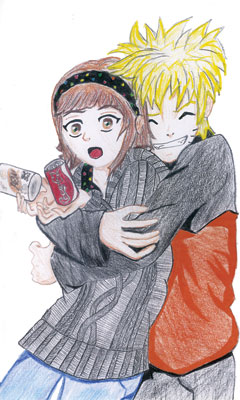 © Mariana O., Tecate, CA