Pride
November 13, 2009
Mistakes, oh, mistakes,
Yes, we've made them all.
But never will we admit
Our tainted flaws.
From lies and debts
To insecurity.
Now you're hanging from the thread
Known as your sanity.

You're standing on the edge of madness,
Yet you still reach for that unatainable bliss.
When will that shallow heart of your's learn,
That it can never feed that irrevocable yearn?

Regrets, oh, regrets,
Yes, we've all had one.
Yet you still try to grab
A'hold of the sun.
Life is never as simple as it seems.
Just admit, sweet child,
That you're breaking through the seams.

Your body is numb and your soul is weak,
Yet you still won't admit that your obsolete.
When will that pride filled heart of yours see?
That without Him your spirit will cease to be?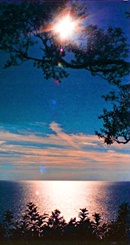 © Crystal B., Gresham, WI