Broken Moments
MAG
November 11, 2009
Changing, flickering light
through the shifting leaves above,
the strong ancient trees stand tall.
Grass blown by wind
lets the musty scent of earth
slowly make its presence known.
The winds start, slowly at first,
quickly picking up speed,
and slowing to a stop.
Simply to start back over again.
A quivering melody is sung by a bird,
tentative, but sweet.
A single voice to signal the end of day,
soon to be joined by many.
The quiet chirping of crickets
join in and together,
create a soft lullaby to welcome in the night.
A car roars past.
The strong stench,
exhaust
becomes mixed.
with the sweet scent of herbs.
Overpowering it.
Corrupting it.
And turning it sour.
The rusty grinding
of the engine
drowns out
the subtle sounds of nature.
It breaks the peace,
and the moment is gone.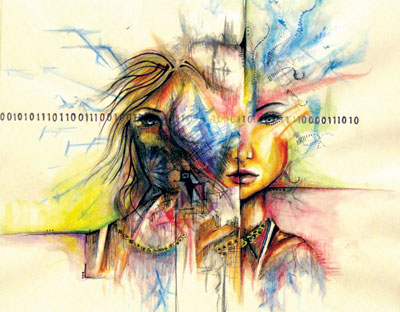 © Melissa W., Fayetteville, GA