Just ask you
November 5, 2009
We spend time trying to please those who can't seem to see.
But we're like superman in the eyes of those yet to be.
We reach far to get an outcome that shows us we've done well.
But we don't have to go too far, there's ones who can already tell.
Stay up late getting work done, so we can feel complete.
But there's those little eyes watching, that wish you'd take a seat.
Throw a ball or say a prayer. Read a book or brush thier hair.
The simple things, they go so far. Farther than that fancy car.
Your shiney purse and pointy shoes, maybe winners, but to them, they lose.
Impress your boss and your friends all day. But they want time, just to play.
It's too bad things, and stuff seem real. But the little ones we should love, get kicked by the end of your heal. Another time, just another day. But soon enough they move away. You never really
knew them well. But at the time, you couldn't tell. You beg them now to come back home.
But they're all gone and they're all grown. You had your chance, and now they're far. You should be happy with your car. Your shiney shoes and coach purse too. They'll get you far, just ask you.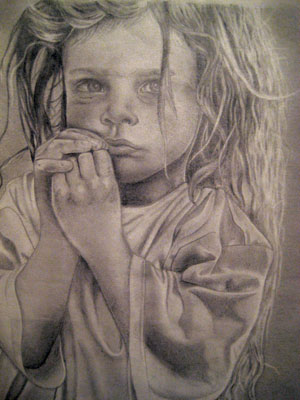 © Katie S., Pearland, TX