Halloween Merriment
November 5, 2009
Halloween Merriment


Coming in the house, all soaked and disgusting,
Halloween night was pretty different this year.
Walking around in the pouring rain,
Getting everything wet from our clothes to our candy.
Halloween is suppose to be fun without the rain,
But this year it was rain, rain, and more rain.

All of us lining up to smile our biggest smiles,
In our funky neon colors.
Our crazy 80's hair-do and our wacky jewelry,
We still make silly faces despite the rain.
Sitting, eating candy like there's no tomorrow,
Getting sick to our stomachs.
Trying to dry off from the gross weather
And try to make the best of the rest of the night.

Leaving from my house to the go to "slumber party" house,
We make our way through the wet grass and sticky mud.
Getting changed out of our neon chic clothes to our nice comfy pajamas.
Playing all types of games, the ones that girls love to.
Telling stories and secrets that girls share with on another,
Talking about boys and dancing and singing all night long.
Finally everyone is feeling tired,
So we lay our heads down on our pillows
And gently fall into a deep slumber
And think about our fun evening on Halloween night.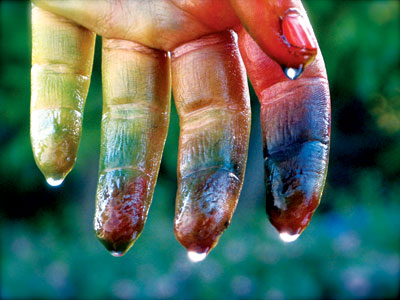 © Allison F., Menlo Park, CA