Bittersweet Loveseat
November 3, 2009
The friend zone:
A bittersweet loveseat.
We were caught between.

Milk gone sour,
What else has an expiration date?

Loss of interest, I guess,
Lead to an attempt of a restoration of our best friend status gone bad.

Why do I feel the need to avenge the title
Of almost lovers that we once wore?
My emotions surprise me,
I'm coming off as
Shrewd
Rude
Crude

I'm sorry,
I wish I could say.
But I'll admit, at times I hate you.
At times I hate myself.

At times I hate the human mind
And its capabilities,
And its abilities to resurrect dead feelings,
Causing both major and minor casualties in lives.

I hate you for being you,
And not changing like everyone else.
I hate you for making it hard to forget you.
I hate you for not hating me.

I hate myself for looking at you,
All I can do to help that is shoot false glares.
I hate myself for not forgetting you.
I hate myself for hating you for things you can't control.

It won't work,
It never will.
That was my realization that led to all this.
But once again my mind wanders
And I see it.

It's like having a super power,
But it's horrible.
It's horrific.
It's horrifying.

So I just keep denying,
And sometimes it works,
Sometimes it doesn't.

My brain is frying,
I don't see the point,
Why do I keep trying?
My heart aches for you,
I'm surprised that I'm not crying.

No, no, no.
You're too much of a good friend.
I can't risk that.
This is like déjà vu,
I remember debating that same thing about you.

Back when we were who we were then,
I wish you or I would've said something,
But we didn't.
Maybe we were just a day late,
And this is probably our fate.

It's decided.
I'm not going back.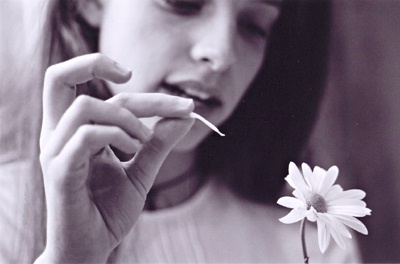 © Emily B., Houston, TX