Decide
November 3, 2009
He just stared at the ground,
and he wouldn't show his beautiful face
So I knew something was wrong
"You don't want to hear what I have to say"
His words dripped with honey
"You don't have to say it" I whispered
I could feel my knees giving in
"I'm sorry" he lied
the sincerity not even in his voice
pathetic
"No. You're not." I choked out
I couldn't find my voice; or my pride
He looked up slowly, smiling
"We both knew this was coming"
He tried to reason
well
he sucks at reasoning
"Stop it"
My balance disappeared
"babe, don't do this"
babe. he never called me that.
"I'M not doing anything"
My tone turned to ice
"Please... I-"
"what? your tired of this? me too."
I couldn't breathe
"So why are you still fighting it?"
my anger ended immediately
replaced my clarity
"I don't even know" I cried
He stood as if he were a statue with an ice cold heart
no words transferred
and then it occurred to me
"because someone has to fight," I whispered
"..and I know you aren't willing to anymore"
time passed
His beautiful warm brown eyes moved me once again
I straightened my shoulders
and took a deep breath
"Where are you going?" He asked quickly
he finally started caring
-too late
The slightest grin crossed my face
I saw a glimmer of hope in his eyes
wrong
but I guess he knew that
"Well? can't you speak?" he looked confused
scared
pathetic
"No. because you don't want to hear what I have to say"
Defeated
"Oh"
right
"bye?" he asked
"no. not goodbye" I somehow choked out
he smiled
"Goodbye was so long ago. It's way too late for that"
His pride broke
"So what then?" again confused
I didn't know either
"I'm sorry" I tried
but those words were different puzzle pieces
in the wrong box
"No. you're not." he shot back
"I know." I glared
The ice reappeared
"mm." his need to win this fight did also
"-because I didn't break my own heart."
goodbye
-babe.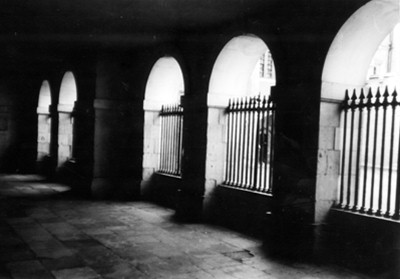 © Hadley B., Marblehead, MA