Blame
November 2, 2009
My whole body feels heavy.
As if I'm floating in the dark abyss.
I'm not asleep but not awake either.
I can hear what's going on but only bits of it.
Everybody is fighting over something.
An object?
No, it's different.
Theirs feelings?
No, not the right choice of words.
Then, I hear a name.
"*****!"
It's my name?
"It's all your fault!"
I don't understand but I open my eyes.
People are gathered around me with angry faces.
I open my mouth but I'm cut off.
"It's all your fault!"
It starts off as one but then it multiplies.
They come closer to me chanting.
I try to scream but only tears come out.
Everything becomes darker as they close in.
They throw me into the darkness.
I sit there confused, alone, and crying.
Wondering what I did wrong?
Then I yell, "It's not my fault!!!!!!"
Then I lost all feeling in my body.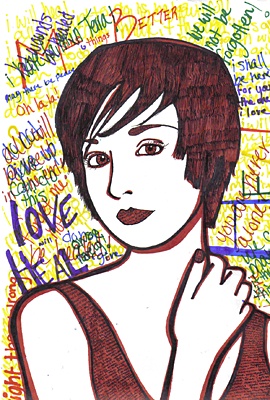 © Sara D., Aiken, SC