questions?
November 2, 2009
when was life so easy?
i used to play with barbies and finger paint.
all thats left now are finger prints of yesterday.
what happened to the times i played outside?
what happened to the times i picked dandelions for my mom in the summer?
and when i chased the ice-cream truck down the street when the sun tanned and freckled my perfect skin.
what happened to my prefect skin?
that is now masked from sleepless nights that are like bruises from the beating of no rest.
when could i rest peacfeully?..never.
nightmares of tomorrow haunt me every night,
threatening to take away my happiness.
when can i be happy?
the questions bubble over my overflowing mind.
i will never be happy because life cannot give you happiness.
nothing can give me happiness except you.
so sadness come im willing to wait.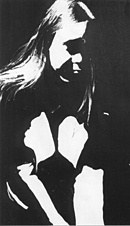 © Tabitha M., Kannapolis, NC